So it seems I only have time to write about food when I travel. Fair enough. So. Here I go.
En route to Paris (again), K & I decided to fly Zoom into London (again), spend a night, and then Chunnel into Paris. Setting out to prove again that London food can be most extraordinary, we did a little research and then happily "tucked into" four delicious meals. One thing that immediately struck us was how simple it was, from simple pub fare to gourmet gastronomy, to eat local, organic, humane, sustainable, fair-trade, etc. New Yorkers, stop kidding yourselves: if "green" living was a race, London would have lapped us thrice. Carbon neutral cabs?
Pepsi Raw
? While I have to work very hard in the Big Apple to find food that meets my ethical/ecological standards, I'd have to work as hard or harder to find London fare which harms the world.
Sounds like I should be on a soap box at Speaker's Corner, right?
All right, on to the food:
Humble Pie
(80 Buckingham Gate)
After our Easybus dropped us off from Gatwick, we found our hotel room wouldn't be ready for another hour, so we decided to explore Hyde Park. After a lovely morning strolling (and rowing!), we headed back to the hotel for a nap. On our way, we realized that all we'd had to eat since the airplane's dinner was a banana each. Humble Pie International Ltd to the rescue. Adorable storefront. Exciting menu with adventurous variations on a British standard. We settled on a lamb marinated in Shiraz, accompanied by raisins, sweet potatoes, and a few other tasty morsels which I've forgotten despite my attempts to save the menu. Also: the most exciting case of drinks I've ever encountered, filled with a nice stock of juices by
James White Drinks
. We decided to share the Beetroot juice and the Apple/Crushed Ginger juice. They also have single varietal apple juices which is very exciting to this food dork.
Abeno Too
(17 Great Newport St)
After our nap, we trekked 2.5 miles from our hotel over to check out the National Gallery and work up an appetite. We are very very hungry at this point--this information will be important to explain the following. A hunt on the blogosphere had led me to
Abeno Okonomiyaki
and its little brother, Abeno Too. When I first tasted Okonomyaki in Japan it was translated to me as "my favorite things friend," which made sense for this savory Japanese omelette stuffed with bacon, shrimp, cabbage, carrots, ginger, and other assorted vegetables, all covered with sweet Japanese mayo, okonomyaki sauce, bonito flakes, and nori. After waiting for about 20 minutes at Abeno Too, we were ushered to our space at the okonomyaki bar and got a peek at the menu. This wasn't grandpa's okonomyaki: there were at least 10 different varieties, each offering a novel flavor combination. Having scrimped and saved all day, we decided to go for the most expensive option on the menu: the Abeno Okonomyaki: Organic beef & chicken, bacon, pork, black tiger prawns, asparagus tips, Konnyaku, lotus root, mushrooms, and garlic. Our waiter/chef was a ridiculously well-travelled Londoner of Polish extraction who was currently finishing up medical school. Michael "the Pole" (his own designation) stood in front of us at the bar, chatting us up as he prepared our meal over the course of about 25 minutes. This was high art, the way each component was individually cooked and then delicately layered on top of a growing stack of eggy-goodness. Our barside seats to this culinary demonstration were worth at least as much as the cost of the meal. Michael explained that he and the other okonomyaki specialists train for at least two weeks before they are allowed to make the simplest items on the menu and that you must work at it for some time before you are permitted to cook the specialty we ordered. He also translated the dish as "Fry it like you like it" which is somehow more democratic than the version I'd heard before. Well, suffice to say, as we watched his mastery and smelled the delightful scents cooking up under our noses, our hunger deepened to near-starvation level. When he finished the preparation, we dug into the meal so quickly it did not even occur to me that I should snap a photo of his heavenly creation, hence the afterthought above. Suffice to say, the meal was incredible. We'll definitely be back!
Ye Olde Cock Tavern
(22 Fleet Street)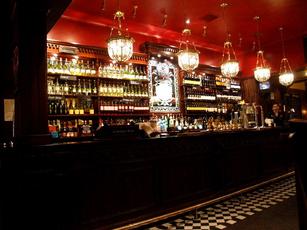 The plan was to check out a place on Essex called S&M, specializing in
S
ausage and
M
ash, as we made our way towards the Tate Modern in the morning. Unfortunately, we navigated our way to Essex St when, in fact, the sausage joint is located far north on Essex Road. Dejected and hungry, we began strolling around looking for an English Breakfast. And then the rain started coming down and we dived into a place that looked warm and friendly,
Ye Olde Cock Tavern
. As you can see from the inlaid photo, this fancy establishment still has restored fittings from the 19th century. It has quite a rich history, frequented by the likes of Pepys, Dickens, and
Tennyson back when it stood on the other side of the street. It also has quite a good English breakfast, offering a solid variation for those who are veggie-inclined. The meat version is a fried egg (runny), sausage (juicy), bacon (crispy), white bread (buttery), baked beans (creamy), and cooked mushroom (fungi). The veggie version trades the bacon for a grilled 1/2 tomato and a vegetarian sausage replaces the pork one. A perfect rainy day breakfast. I'd like to thank the kind staff for letting us order the meal even though standard British breakfast time had elapsed while we stood confused in the rain looking for a place to eat.
Jonathan Crisps
:
"Crisps for Snobs"
Parsnip, Sweet Potato, Beetroot.
Black Pepper & Ginger.
Mature Cheddar & Red Onion.
Sea Salt & Malt Vinegar.
Horseradish & Sourcream.
Sundried Tomato & Basil.
Black Olive & Garlic.
'Nuff said
.

Yo Sushi
(14 St Paul's Churchyard)
Yes it's a chain, but I'd wanted to try conveyor-belt (kazen) sushi and here was
Yo Sushi
, beckoning me to come in and sample its rotating raw sea creatures. Simple premise: you sit at a bar and a conveyor-belts brings food right to you. There are 5 different color plates, each corresponding to a different price. Eat what you like and the empties are tallied for your bill.
In addition to some fairly standard choices, we had a tasty tofu, seaweed, and cucumber salad, Softshell Crab & Rocket with Chili Mayo, Kobe Beef Sashimi, and, my favorite, Scallop Sashimi with Coriander Pesto (inlaid photo). The bill was more than I might have liked given the actual quantity of food ingested, but it's always good to try out new experiences and I'd never done Kazen-sushi outside of Japan.
We'll be back in London for a day at the trip's end so if you have recommendations for good eats, please do post a comment...Now on to Paris!